HOW TO USE OUR DIRECTORY
Welcome! In this tutorial, you will learn how to manage all necessary aspects of our city directory website. If, after you have completed this online guide, you still have questions, please Contact Us for help.
First you will need to register to get access to certain areas.
Register - You will need to find the Register link located at the top of our Homepage. Fill out the short form. Note: Remember your user name and password. They are case sensitive. You must have a valid email address to participate on this site.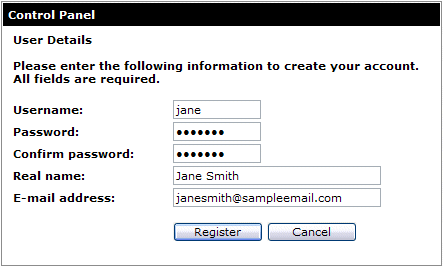 Then you will receive an email with a link to follow to activate your account.

Once you have followed the link you received via email, your account will be active and you may log in.
Table of Contents:
Our directory may offer other content. If you need help with any other aspects of our website, please contact us for assistance.
Adding information to the site.
You may input your own data on our site once you have registered and logged in. Data and pictures can be inputted or uploaded using forms that will be available once you have logged in. Below is a picture of our User Control Panel where you will need to choose the appropriate icon for the type of information that they wish to add. Below the picture I have added a copy of the Auto Sales entry form so that you can see how easy it is to add information. Please note this is a non-working version of the form. Your changes will not be saved! After a form is submitted and approved the information will show up on the site for others to see. A user may edit their own information after it is approved as long as the changes reflects the family values of this site. A user will be deleted and banned from this site if they try to upload inappropriate information. Thank you for giving us a try and for sharing your information with others. If you need help adding an item or if you want us to make an entry for you please use our contact us form or call Gregory at 803-389-0148.
Sincerely, Gregory Bridges (Site Admin)
Auto Sales Entry Form (Example Form - See Below)
Title/headline: *

Description: *

Vehicle make: *

Vehicle model: *

Vehicle year: *

Interior color:

Exterior color:

Doors:

Transmission:

Drive:

Engine:

Fuel:

Mileage: *

mi

VIN (optional):

Asking price: *

USD $

Location (city/State): *

Contact Person:

Phone: *

Mobile phone:

E-mail address: *

Web site URL:

Features:

ABS (4-Wheel)
Air Conditioning
Alarm
Alloy Wheels
AM/FM Stereo
Cassette Player
CD Changer
CD Multi Disc Player
CD Single Player
Cruise Control
Dual Front Air Bags
Dual Power Seats
DVD System
F&R Side Air Bags

Flip-Up Roof
Front Side Air Bags
Leather Interior/Seats
Moon Roof
Power Brakes
Power Door Locks
Power Steering
Power Windows
Rear Spoiler
Sliding Sun Roof
Tape Deck
Tilt Wheel


Categorization

Choose up to 3 different categories to file this vehicle under:



Photos


If you wish to upload photos for this listing, click Browse below to choose up to 5 image(s) to upload.

Note: Valid image files include JPEG (.jpg), GIF (.gif), and PNG (.png) images. Other types of files such as PDF and PPT files are not images, and cannot be accepted. Images MUST be under 341.8 KB.

Photo 1:
Click here for our low advertising rates